Gala dinner raises £10,000 for Surrey urology services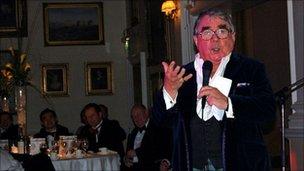 Nearly £10,000 has been raised to advance the diagnosis, treatment and management of prostate cancer and other urological conditions in Surrey.
The money was raised at a gala dinner held at Wentworth Golf Club, in Virginia Water, in aid of Ashford and St Peter's Hospitals NHS Trust.
The event was part of the new Golf Marathon charity initiative, aiming to raise £1m to fund new services.
Funds were also raised by golfers playing a sponsored round of golf.
The gala dinner was attended by comedian Ronnie Corbett, who provided the entertainment.
After dinner auction prizes included donated gifts from David Beckham, John Terry, Nick Faldo and Sam Torrance as well as rounds of golf with various celebrities including Corbett, Tom O'Connor and Jodie Kidd.
The Golf Marathon aims to support several new services at Ashford and St Peter's hospitals, including a laser to treat kidney stones and certain types of kidney cancer.
Justin Collins, urology consultant, said: "We wanted to work with local golf clubs because of the demographics and the fact that most members of a club will know someone with a urological problem.
"Also, they are great socialising networks and a good way to spread an important message about how urological diseases, such as prostate cancer, kidney stones and bladder cancer affect so many people."
Related Internet Links
The BBC is not responsible for the content of external sites.