Views sought on Guildford's Bellerby Theatre site plans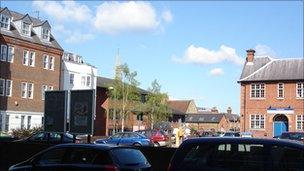 Residents' views are being sought on plans to develop an old theatre site in Surrey.
The scheme would see the former Bellerby Theatre site in Guildford turned into a mixture of affordable homes and other residential buildings
It includes the theatre, Victoria Court sheltered accommodation, some community buildings and an industrial unit.
Guildford Borough Council said users of the day centre and Victoria Court would still get the same level of service.
Conservative council leader Tony Rooth said: "We are keen to hear the views of all local residents about plans for regeneration of this important town centre site.
"The proposals will offer better facilities for the town and the wider community, offering community space, housing and a possible supermarket development.
"As part of the Later Life Strategy we consulted with the public and our clients as to how we can best provide services for older people in the future, including existing users of North Place Day Centre and Victoria Court.
"We would like to reassure existing clients that the level of service we provide will remain the same, it will just be provided in a different way.
"We will be targeting help where it is most needed and ensuring that clients' needs are met now and in the future."
Related Internet Links
The BBC is not responsible for the content of external sites.