Surrey safety drive cuts road casualties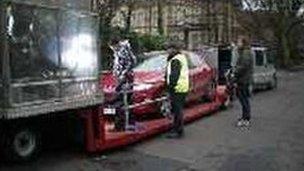 A one-year campaign to increase safety on Surrey's roads is to be extended after 80 fewer people were killed or seriously injured.
Surrey County Council (SCC) said the £1m Drive SMART campaign helped cut the number of crashes between September 2009 and September 2010 by 86.
Funding to September 2011 has been cut to £320,000 but SCC said equipment already bought would be reused.
Surrey Police said it was pleased the campaign had been extended.
Figures supplied by the police to SCC showed that of the 80 fewer people were killed or seriously injured, nine were children.
Chief Constable Mark Rowley said that, while it was important not to link the reduction too closely to Drive SMART, it was significant.
"Although this initiative has needed to include some enforcement action against the most dangerous drivers, greater emphasis has been placed on education, information and training," he said.
Other factors helping to reduce accidents might include better safety technology in vehicles, an increase in people using public transport and lower speed limits.
In Drive SMART's first year, speed awareness courses were completed by almost 7,000 motorists caught exceeding the limit and police officers issued advice or handed out fixed penalties 47,000 times.
An extra 25 community and school speedwatches were carried out and a Park SMART campaign was launched to improve people's parking.
Police and council officers carried out 40 roadside enforcement days in areas blighted by anti-social driving.
A film showing the dangers young drivers face under peer pressure was also released on YouTube, Twitter and Facebook.
"While there are a number of factors which have contributed to the reduction in deaths, injuries and crashes on Surrey roads we can be sure that Drive SMART has played a key role," said SCC leader Dr Andrew Povey.
Related Internet Links
The BBC is not responsible for the content of external sites.