Rare fungus discovered in woods in Surrey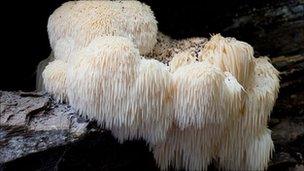 A rare fungus which is named after its white and hairy appearance has been discovered in Surrey.
The bearded tooth fungus or hericium erinaceus was spotted near Pirbright by the Surrey Wildlife Trust (SWT).
The fungus which is classified as rare in the UK is usually found on dead wood on broad-leaved trees.
SWT volunteer Ray Tantram said: "It is excellent to have a new record for Surrey of this rare and beautiful species."
She added: "Please help conserve it. Always just look and admire; please do not pick or destroy such valuable additions to Surrey's biodiversity."
The bearded tooth fungus has long white spines which point downwards and is also known as lion's mane, monkey head and tree hedgehog.
Related Internet Links
The BBC is not responsible for the content of external sites.