Conker match world record 'broken' at RHS Wisley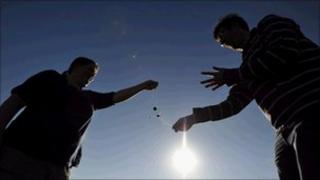 An attempt to break the world record for the most matches of conkers played at the same time appears to have been succesful, organisers have said.
Staff at the Royal Horticultural Society's garden at Wisley invited people to turn up for the record bid.
They had gathered 1,600 conkers for the attempt on Seven Acres lawn, and more than 500 people joined in.
The current record of 197 matches played by 394 people was set by Redland High School for Girls in 2006.
After the event, RHS staff posted an update on Twitter which said it looked like the record had been broken but the result needed to be checked.
The update said: "Looks like we did it! 502 people played conkers for five minutes at RHS Garden Wisley. Of course, it needs to be officially verified but woo hoo!"