'Extinct' roaming red deer protect Pirbright heathland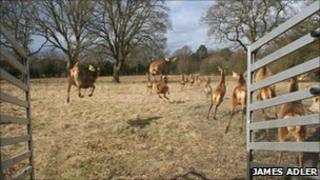 Red deer that became locally extinct more than 200 years ago have been reintroduced to heathland in Surrey.
The animals were released on to the MoD's Pirbright Ranges, near West End village, a week ago after spending the summer in holding paddocks on the site.
Their addition to the protected habitat is part of a conservation project led by Defence Estates, Natural England and Surrey Wildlife Trust.
It is renowned for its ground nesting heathland birds and wetland areas.
'Stunning landscape'
Populations of nightjar, woodlark and Dartford warbler breed within the ranges, which is a Site of Special Scientific Interest (SSSI), with the area also attracting species such as the great grey shrike and merlin.
The red deer have been brought onto the site to keep invasive scrub and coarse grasses under control and from threatening the habitat.
James Adler, grazing manager for Surrey Wildlife Trust, said: "To see the first red deer for 200 years walking across this stunning landscape is incredibly moving.
"We are proud to have a sustainable conservation system up and running to safeguard the future of this unsurpassed southern wilderness and its wildlife."