Surrey fire service 'cuts' plan devastating, FBU claims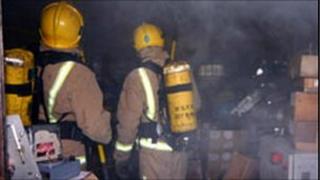 Plans by Surrey Fire and Rescue Service to save £2.7m in the next four years will lead to "devastating" cuts, according to the firefighters' union.
Proposed changes include moving fire engines to different stations, relaxing response times and increasing the number of fire crews on day duty.
The fire service said the changes would ensure resources were used as effectively as possible for the public.
But the union said cuts were being dressed up as improvements.
The draft plan, which will be considered by Surrey County Council's (SCC) cabinet on Tuesday, proposes 8,000 more day shifts a year for firefighters.
SCC said most emergency calls were received during the day but existing shift patterns meant there were more fire engines available at night.
Closer working
"These days we are called to more vehicle collisions than fires in homes, with demand particularly high during peak traffic times in the morning and late afternoon," said Chief Fire Officer Russell Pearson.
He said some of Surrey's 24 fire stations were not in the best locations to provide emergency cover and some of its 35 fire engines would be moved.
The fire service also plans to explore closer working with neighbouring authorities.
At the moment Surrey pays West Sussex Fire and Rescue Service to respond to emergencies in the Horley area because it can often get there quicker.
Richard Jones, of Surrey Fire Brigades Union (FBU), said that under the plan 12 out of 33 pumps currently available at night would go.
"That is a devastating cut," he said.
"It is going to leave us spread very, very thinly at night, which will mean that the pumps have to travel much further to calls and incur greater response times."
Response time
The FBU said moving fire engines would mean, for example, that Woking would lose one of its two engines.
"This is the second time in the last five years that the response time in Surrey has been relaxed," said Mr Jones.
"We shouldn't be relaxing response times, we should be finding ways to comply with them."
If the draft plan is approved, a public consultation will begin on 8 December, with the changes implemented from April next year.
"We want the public to know that these are cuts," said Mr Jones.
"They are being dressed up as service improvements, which is totally untrue."