Bomb-threat bank robber jailed for raid at Barclays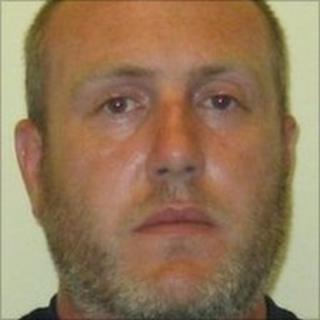 A convicted robber who told staff and customers at a Surrey bank he would "blow their heads off" during an armed siege has been jailed indefinitely.
Unemployed Matthew Nutley, 36, also told hostages at Barclays in Ashford he was carrying a bomb which would explode if he let go of the trigger.
Nutley, of Brookside Avenue, Ashford, admitted six charges on 22 October.
At Guildford Crown Court the judge passed an indeterminate sentence with a minimum term of seven years.
Judge Christopher Critchlow told Nutley: "You have caused very serious harm, emotional if not directly physical, to all those who were under your threat in that bank."
Paper boiler suits
The court heard Nutley walked into the bank in Church Road shortly before 1600 BST on 28 June and forced the bank manager to lock the front doors.
The robber, who was wearing a white paper boiler suit and a mask, handed similar paper suits to up to 16 people inside in an attempt to confuse police.
At one stage he told three of the hostages he would start cutting off their fingers and ears if his demands were not met.
An imitation bomb was forced on the bank manager who was made to glue it to himself while Nutley pointed the gun at hostages, prosecutor Ruby Selva said.
Previous conviction
He was heard to say: "I've got a machine gun and I can wipe you all out with it."
Police later discovered the gun was an imitation and the bomb was a homemade hoax made of copper piping and wires bound together with electrical tape.
During the afternoon, Nutley released all the hostages, except for three men - the bank manager and two customers.
"They made a break from the bank and escaped through the front doors," Miss Selva said.
"The bomb was still glued to the bank manager's hand."
Nutley, who had a previous conviction for robbery at an off-licence in 2003, eventually gave himself up.
At an earlier hearing, he admitted robbery, blackmail, false imprisonment, possession of a firearm with intent, placing an article with intent, and possession of a bladed article.
Defending, Selwyn Shapiro said Nutley was mentally unstable and his personality changed when he took prescription drugs.
"There he was, on his own, making frankly ridiculous demands about money and aeroplanes and parachutes," he added.
Det Supt Alan Sharp, a tactical commander for Surrey Police during the incident, described Nutley's actions as "cruel, ruthless and terrifying".