Surrey faces further disruption as snow turns to ice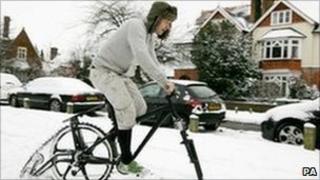 Surrey faced a third day of disruption as the low temperatures turned snow into ice.
Schools remained closed across the county, train and bus firms ran a reduced service.
Surrey Police continue to advise motorists to travel only if necessary and to take extra care on icy roads.
The Met Office said it would be mainly dry overnight into Saturday but there could be outbreaks of rain, sleet or snow.
'Challenging few days'
Ch Supt Charlie Doyle, of Surrey Police, said: "Conditions across the county remain difficult and we would remind people to take extra care if they have to travel."
He added: "These have been a challenging few days for the people of Surrey but their response so far has been excellent and has allowed us to focus on dealing with emergency incidents."
Southern Railway operated a reduced service on a limited number of routes on Friday, while Southeastern passengers also experienced major disruption.
Eurostar said it was operating a significantly reduced timetable until Sunday.
Widespread snowfall
Surrey County Council (SCC) said a fleet of 41 gritters had covered more than 4,000 miles (6,437 km) of road so far this week to help keep motorists moving.
Sandown Park, in Surrey, was forced to abandon Friday's race day.
SCC said all its recycling centres were open, but some may close earlier than usual.
Motorists experienced further long delays on the county's roads on Thursday evening.
Andy Smith said it had taken five hours to travel from Dorking to Putney in south London.
"The hill up to Leatherhead before the M25 was jammed with cars whose drivers were unable to handle the conditions, including those in four-wheel drives who thought they could plough through the settled snow in the centre of the road but hadn't the skills to do it," he said.
"There are tiny counties in the British Isles that do much better than Surrey in similar weather."
The UK has been experiencing the earliest widespread snowfall since 1993.