Conan Doyle supporters take Undershaw fight to court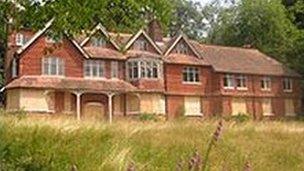 Opponents of plans to convert Sir Arthur Conan Doyle's former Surrey home into flats are taking their fight to the High Court.
Waverley Borough Council granted planning permission in June for conversion of Undershaw in Hindhead.
The Sherlock Holmes creator wrote some of his most famous works at the Grade-II listed property, built in 1897.
Campaigners have instructed lawyers to start judicial review proceedings in the hope of overturning the decision.
Law firm Irwin Mitchell will ask the High Court to quash the council's decision.
The firm will argue that the decision to grant planning permission and listed building consent was unlawful.
Andrew Lockley, the firm's head of public law, said: "The house is hugely significant from an architectural and historical point of view, but we say that the local authority when considering this case, did not apply the legal statutory test correctly."
John Gibson, an expert on Conan Doyle and director of the Undershaw Preservation Trust, said the council's decision had been "mysterious".
He said: "First of all, I find it very peculiar that this should be judged on pragmatic reasons alone.
"The historic associations of a building have to be considered, particularly where a listed building is concerned, otherwise what is the point of listing them in the first place?"
The future of the building has been in doubt since 2004 when a hotel which occupied it closed.
Campaigners and historians fought to keep it as a single building or have it restored as a museum but developer Fossway was eventually granted planning permission.
Conan Doyle's great-great-nephews, Joshua and Oliver Conan Doyle, have expressed their disappointment that planning permission was granted.
Other supporters to save Undershaw have included Stephen Fry, author Julian Barnes and Culture Secretary Jeremy Hunt, whose constituency includes Hindhead.
Related Internet Links
The BBC is not responsible for the content of external sites.