Domestic abuse expected to rise in Surrey at Christmas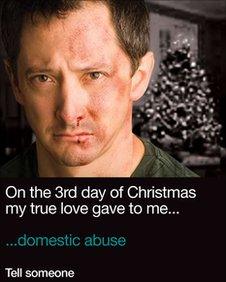 Specialist staff will be on duty over Christmas and New Year to deal with an expected increase in domestic violence, Surrey Police has said.
The force said it expected the number of domestic violence incidents reported over the festive season to rise for the fourth year in a row.
It said the rise may be the result of increased reporting rather than an incline in the amount of violence.
"We cannot know with certainty," a spokeswoman said.
"But the statistics do highlight the scale of the problem in Surrey."
Between 17 December and 4 January in 2007/2008, a total of 646 domestic violence incidents were reported in Surrey.
For the same period in 2008/2009 the number was 667 and in 2009/2010 it rose to 777.
"It is distressing to be able to predict with such certainty that by early in the New Year we will have had many victims suffer from a wide range of domestic abuse," said Det Supt Ray Marley.
"There is nothing more heart breaking for police officers than attending homes at this time of year and finding children in tears as one adult subjects another to abuse."
The number of incidents is highest on New Year's Day and the following days. About 77% or victims are women and 23% male.
Drug and alcohol consumption is believed to pay a part, along with strains on relationships caused by paying for Christmas.
Surrey Police officers have received extra briefings on dealing with abuse and repeat offenders have been identified so those most at risk can be protected with legal action.
Information leaflets encouraging victims to report violence, prepared with Surrey County Council, have been distributed to schools, GP surgeries and pubs, clubs and taxi ranks.
"In Surrey we have developed a good partnership with the other agencies involved and I am grateful for their support which enables me to say with confidence that support is available for victims," said Dep Supt Marley.
"My message to victims is clear - we are on your side, you are not alone, we will support you and help you receive ongoing support if necessary."
Related Internet Links
The BBC is not responsible for the content of external sites.