Surrey road salt 'down to 5,000 tonnes'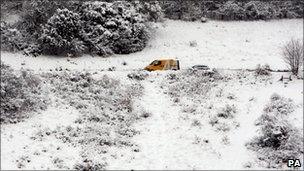 Road salt supplies stockpiled by Surrey County Council (SCC) have gone from 13,000 tonnes to 5,000 tonnes in the past two months.
This year, the authority ordered 50% more salt than last year.
The county council also went further than government guidelines and stockpiled enough salt for 51 grit runs as opposed to the recommended 48 runs.
Snow has disrupted the whole South East, but SCC said it was "well-placed" to tackle further wintry weather.
A council spokesman said the authority had gritted 47,000 miles of road since the start of November.
A further delivery of 2,000 tonnes of salt was expected "very soon" and orders had been "dotted throughout the winter", he added.
"We are well-placed at the moment in terms of our grit supplies," he said.
The Highways Agency grits motorways and major roads including the M25, M3, A3, A23 and A30. Surrey County Council is responsible for the rest of the routes in the county.
The authority also supplies salt to about 1,500 bins across the county. They have been refilled amid pleas to residents to use the salt to treat local roads and paths and help their communities.
Earlier in the week, Surrey Police advised motorists to make only essential journeys during heavy snow.
The force said major routes had been gritted, but conditions remained "treacherous". A number of minor roads had been closed and major problems were reported on the A3 southbound, the A31 and the A287.
Icy weather led to disruption and cancellations at the two major airports bordering Surrey. Flights were returning to normal at both Gatwick and Heathrow on Tuesday.
Two rail operators, South West Trains and Southern, said they would be running a normal service on Wednesday.
Heavy snow and icy conditions led South West Trains to run a revised service and passengers were warned to expect some delays. Southern Railway was also affected but returned to a normal service on Tuesday.
Related Internet Links
The BBC is not responsible for the content of external sites.