Surrey council leader speaks on localism to committee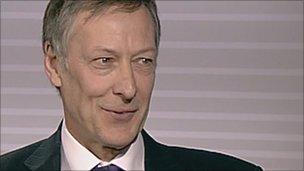 The leader of Surrey County Council is to comment on plans the government says will shift power to communities before a parliamentary committee.
Tory Dr Andrew Povey is to speak about localism to the Communities and Local Government Committee on 10 January.
It follows publication of the Localism Bill on 13 December by Communities Secretary Eric Pickles.
Dr Povey's invitation to speak to the committee came after he responded to a request for submission on the Bill.
Its provisions include giving local people and organisations the right to buy community assets such as shops and libraries and allowing them to question how services are being run, and potentially take them over.
It also includes more power to overrule planning decisions, decide where new homes should go and protect green spaces.
But the Bill was published at the same time councils in England were told they would face cuts of almost 10% next year in their funding from central government.
The cuts are part of a policy to cut central funding to local authorities by 28% over four years.
Related Internet Links
The BBC is not responsible for the content of external sites.