Searches resume after boat overturns on River Thames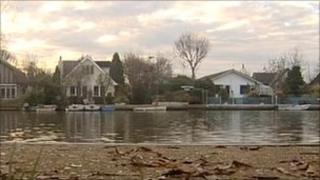 Searches have resumed for a missing man after a boat carrying six people capsized on the River Thames in Surrey.
Four people made it to shore with minor injuries after the boat overturned on Sunday night, but two men were missing after the incident near Shepperton.
Police said on Monday that a body had been found near where the two men were last seen.
A specialist underwater team from Sussex Police resumed searches of the river on Tuesday at about 0900 GMT.
The man who died has not yet been identified.
The three women and three men on board the boat were all couples.
They were being taken across the river at about 1930 GMT from a house on Pharaoh's Island where they had been attending a party.
One of the two men who went missing is aged in his 60s and from the local area, while the other is aged in his 70s and from the Cambridge area.
House party
The other four people are aged in their 50s and 60s.
Insp Adam Smith, of Surrey Police, said: "At some point whilst rounding the head of the island the boat capsized. The full reasons for that are under investigation.
"The currents aren't particularly strong but there are a number of eddies and whirlpools so it's not necessarily as straightforward as it looks."
The search will go on until 1900 GMT and continue on Wednesday if necessary, he said.
A local resident said at the time of the accident the river had been "fairly placid and quite low for January".