Minister warns Surrey police over custody suite plan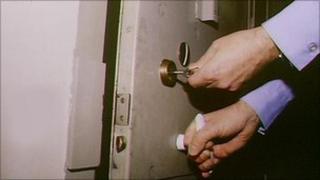 Prisons Minister Crispin Blunt has warned Surrey Police they have yet to convince the local community of the merits of their plans for a new custody centre in the village of Salfords.
Reigate and Banstead Council rejected the initial plan for a 30-cell suite on the Salbrook Road industrial estate.
But the police have lodged an appeal, reducing the number of cells to 24.
Mr Blunt, who is MP for the area, said: "They haven't succeeded in carrying the local community with them."
Police say the current prisoner accommodation at Reigate police station, which has 12 cells, is inadequate for the area of east Surrey it covers and takes officers away from patrolling the streets.
Parking provision
Det Supt Ray Blythe said experts had advised police the expected traffic levels were "appropriate" for the area, convincing them to lodge an appeal, despite the concerns of people living and working in the area.
Mr Blunt acknowledged that the Reigate suite was now inadequate, but he added: "What [the police] have comprehensively failed to do is convince the people of Salfords that they have got a strong case."
He said their main concerns centred on parking provision and the implications of using part of an industrial estate for housing prisoners.
"It is a matter for the planning process to decide."
The force currently has custody suites in Guildford, Staines and Woking, as well as Reigate.