Surrey Wildlife Trust turns pond into wetland habitat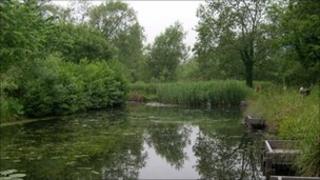 More than £55,000 is to be spent on creating a wildlife habitat at a pond which is currently overgrown with nettles in Surrey.
Surrey Wildlife Trust (SWT) bought Bay Pond at Dobb's Field in Godstone in 2002 and now plans to improve conditions for wildlife there.
The pond will be planted with reeds, filtered, and colonised with wildlife.
SWT is funding the project with £57,161 from the SITA Trust, which offers cash from the Landfill Communities Fund.
Bob Crompton, SWT ranger, said the project would improve the quality of the water and create a new wetland habitat as well as improving the appearance of the area.
Species to be introduced include aquatic vegetation, invertebrates including dragonflies, and bird species such as the reed warbler and bittern.