FBU claims public 'misled' on fire response times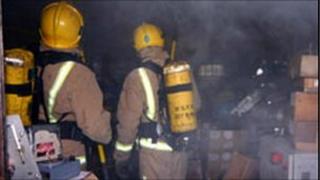 The Fire Brigades Union (FBU) has accused the fire service of misleading the public on proposed changes to emergency response times.
Under the plans Surrey Fire and Rescue Service (SF&RS) aims to have one engine at critical incidents within 10 minutes and a second within 15 minutes.
The FBU said the SF&RS plan started the clock when the fire engine left the station, not when a call was received.
Surrey said most fire services measured response times in the same way.
But the FBU said that real time responses in Surrey could be as much as 16 minutes and 25 seconds from a call being received.
"This is over double the current standard response time," said FBU secretary Richard Jones.
"This makes a considerable difference. We urge Surrey County Council (SCC) to stop misleading the public."
Reducing costs
SCC, which runs the fire and rescue service, is consulting the public on changes that it estimates will save £2.7m in the next four years.
Proposals include moving fire engines to different stations, relaxing response times and increasing the number of fire crews on day duty.
SCC said its aim was to improve the overall service while reducing costs.
"Surrey Fire and Rescue Service is proposing a set of emergency response standards which are transparent and focus on the most critical incidents," said a spokesman.
"The proposal is appropriate for the local risk profile and geography of Surrey."