Surrey's mobile library service faces axe in overhaul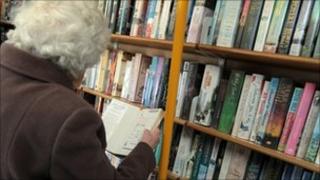 Mobile libraries in Surrey could be scrapped as part of a "complex and radical" overhaul of the county council's library services.
It could also see some libraries run by volunteers or community groups but the council wants to expand its virtual library of electronic and audio books.
The public service union, Unison, said it represented the "dismantling of the public library system".
Deputy council leader David Hodge said it wanted a 21st century service.
Surrey County Council (SCC) library service has 609 staff in 52 libraries, plus a specialist performing arts library and a small lending outlet in the Surrey History Centre.
Last year, the council spent £10.2m on libraries.
Under the plans, the Conservative-controlled council said it would concentrate its resources on a "core branch network" of libraries.
It said it planned to transfer the management of some libraries to voluntary groups, charities or parish councils.
A report said the £500,000 cost of running five mobile library services for around 3,900 people was no longer justified.
Reviewing locations
Use of the service was declining and it no longer met minimum performance standards. Researched showed that 88% of mobile library users were over 65.
The report also suggests reviewing library locations and increasing charges for the performing arts library.
Paul Couchman, Unison branch secretary, said he had not ruled out taking strike action.
He said: "It appears that SCC, in the name of downgrading the library service, stands prepared to rip the heart out of it."
The Liberal Democrat Group on SCC said the mobile library service provided a crucial service to elderly and disabled residents.
Councillor David Goodwin said: "Scrapping the service will have a serious impact to these residents."
Mr Hodge said SCC was under pressure to balance its budget.
"We recognise that the world is changing and we want to deliver a library service for the 21st century," he said.
"We are looking to identify how best we can provide a service for all our users and how can we get books to them."