Public view 'vital' to shape Surrey's future fire cover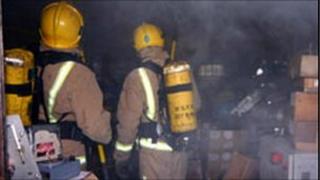 People living in Surrey are being encouraged to help influence the fire and rescue service's future plans for protecting the county.
The Fire and Rescue Authority's draft action plan proposes a number of changes, including a reduction in night cover and maximising daytime crews.
It hopes to save £2.7m over the next four years.
The plan is currently available for public scrutiny. Comments have to be submitted by 4 March.
Surrey County Councillor Kay Hammond, cabinet member for community safety, said the authority was keen for those who fund the service to offer their comments.
'Consequence of history'
With all public services coping with restricted budgets, the Surrey authority is looking at ways to change the way it operates to provide cover for its growing population and changing requirements.
Its draft plan explains: "Our fire stations are not necessarily in the right places, located where they are as a consequence of history and the needs of the community at that time. The shift systems that we operate do not provide the flexibility required."
Chief Fire Officer Russell Pearson said: "The demands upon the fire service have changed significantly in recent years so we must adapt.
"These days we are called to more vehicle collisions than fires in homes with demand particularly high during peak traffic times in the morning and late afternoon. It's vital we make sure we have firefighters in the right places at the right times and we have drafted the public safety plan to help us achieve this."
The Fire Brigades Union (FBU) has expressed concern about how the authority has calculated response times, which has an impact on parts of its draft proposals.
Copies of the plan are available at the county's libraries, fire stations and on the council's website.