Surrey County Council's library proposals criticised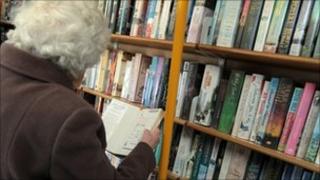 A local councillor has expressed concern at plans by Surrey County Council to overhaul library services.
The council's cabinet has proposed devolving the running of 11 public libraries to the community.
Councillor David Munro, of Waverley Borough Council, urged a "full, effective and transparent consultation" before decisions were made.
Surrey County Council (SCC) said there would be a three-month consultation and people could comment until September.
Mr Munro said he was concerned that the fate of Bramley library, in his borough, along with 10 others, was "a done deal" and described receiving the news as "a bolt from the blue".
"We completely understand that difficult choices need to be made about public services in the current financial climate and appreciate that devolution is a possibility for some services," he said.
'Done deal'
"But we strongly feel that full, effective and transparent consultation must be carried out before decisions are made.
"Presenting the community with a 'done deal' will undermine the success of any devolution process."
In a letter to SCC, Mr Munro also raised concerns about how the 11 libraries were selected, and suggested the decision-making process may have been unfairly weighted in favour of the county's "larger urban areas to the detriment of rural communities such as Waverley's".
In response, a county council spokesman said the decision taken at the cabinet meeting was for consultation to begin on the future of its libraries, and it had written to all the borough and district councils beforehand.
"We are just finalising a prospectus which we will use to consult with community groups right across the county," he said.
"We will also be writing to every user of the mobile library service to determine how we can best deliver the service for them as individuals."