Conservation group forces farmer off Surrey land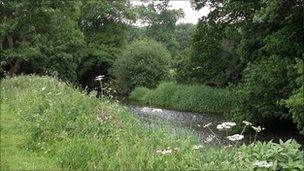 A Surrey tenant farmer is being forced to leave the land where he was born because a conservation group wants to use it for grazing.
Nick Bullen's father worked Swanworth Farm at Norbury Park near Dorking, but Surrey Wildlife Trust (SWT) has said he must leave this summer.
"Legally they have the right, but it will make me homeless and destroy my business," said Mr Bullen.
SWT said the full potential of the farm was not being fully explored.
Swanworth, where Mr Bullen was born in 1963, has 65 cows and 350 ewes.
It takes up about 200 acres of the 1,300 acres at Norbury Park in the Surrey Hills Area of Outstanding Natural Beauty.
SWT, which leases the land from Surrey County Council, has been granting Mr Bullen only a rolling one-year tenancy since 2003, despite his requests for longer-term security.
Now it has said he must leave this summer when his lease expires.
It said it has been in discussions with Mr Bullen over various issues affecting the running of the farm.
"The standard of some of the farming practices was a factor in the decision to end the tenancy, as was the need for a base for the trust's own grazing project."
But Mr Bullen said he was "flabbergasted" to hear its statement.
"I have never had any written complaint from the landlord. We have talked, but the only negotiation has been how to ease the pain of me leaving the farm," he said.
SWT's statement said it regretted any distress caused to Mr Bullen.
"The long-term future of Swanworth Farm forms part of the trust's wider strategy for Norbury Park and for wildlife conservation and for public access across the county," it said.
"The Trust will seek significant outside grant funding to invest in Norbury Park to ensure this flagship site can assume the premier conservation status and recognition that it richly deserves."
Related Internet Links
The BBC is not responsible for the content of external sites.