Surrey County Council unveils library wi-fi plan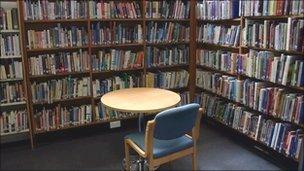 Plans to install free wi-fi in libraries across Surrey have been announced by the county council.
The local authority has awarded an £8.4m contract for new computers and printers to be fitted at library sites.
Councillor Denise Saliagopoulos said: "The way people use libraries is changing and we need to keep pace."
Surrey's plans to devolve the running of 11 public libraries to the community have recently been criticised by unions and other local politicians.
Announcing the project to install wi-fi, Ms Saliagopoulos said: "The new contract will open up wi-fi to the public and further the development of our online library and e-book stock.
"We've negotiated a contract that offers real value for money by providing even better services for the taxpayer at less cost."
According to the Conservative-run council, the cost-cutting deal will save £1.6m for local taxpayers over the next seven years.
Related Internet Links
The BBC is not responsible for the content of external sites.