National Trust seeking volunteer shepherds in Surrey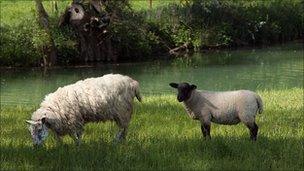 Visitors to a National Trust site in Surrey are being asked if they want to become shepherds.
The National Trust at Reigate Hill said people could volunteer to help wardens check on sheep and cattle on the site.
Head warden Mark Richards said people would receive training on how to identify potential health issues affecting the animals.
He said people did not need to be available every day, and no previous experience was needed.
Mr Richards said: "We want people to let us know if they see anything wrong with the sheep or the cattle, healthwise, or if there's an animal lying down that's got an injury to let us know, and check numbers, that they're all there."
Mr Richards said wardens checked the 22 sheep and five cows at the site every day, but the volunteers would provide "an extra pair of eyes".
Chloe Dancey, a shepherdess who looks after a flock at Loseley Farm, near Guildford, said: "The main thing is awareness. Anybody can just look quickly and think they're all right, or the correct number of sheep are there."
She said if one of the sheep was apart from the others, there was usually something wrong, and lameness was also a problem.
Ms Dancey also said the animals needed to be checked at least twice a day, in the mornings and evenings.
She said she had come to view her flock as her "friends" rather than sheep.
"I only have to have one glance and I can tell if there's something slightly wrong," she added.
Related Internet Links
The BBC is not responsible for the content of external sites.