Surrey hospital 'put man's life at risk' report reveals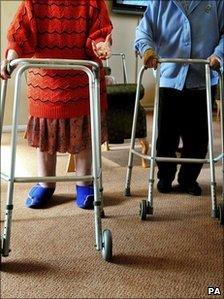 An elderly man's life was put at risk when a Surrey hospital discharged him when he was medically unfit, a report into elderly care has revealed.
The 79-year-old, who suffered from depression and dementia, was admitted to St Peter's Hospital, Chertsey.
Mr W's case was one of 10 highlighted by the Health Service Ombudsman as part of its review of the elderly.
Ashford and St Peter's Hospitals NHS Foundation Trust said it apologised "unreservedly".
Chief nurse Suzanne Rankin added: "When people come to hospital they need to feel confident they will be well looked after, which clearly didn't happen on this occasion and is, quite simply, inexcusable."
Its care and treatment of Mr L, who suffered from Parkinson's disease, contributed to a "loss of his dignity" and "compromised his ability" to survive pneumonia.
The 72-year-old was described by his wife as a "brilliant" architect and someone who enjoyed keeping fit all his life.
A spokesman for the trust said: "We fully accept that our care of Mr L fell short of the expected standards we should be providing and apologise for those shortcomings and for the fact that the family felt the need to complain to the health service ombudsman.
"We are absolutely committed to providing excellent standards of care and are genuinely devastated that anyone should find our services to be substandard or feel that we're putting people at risk."
The ombudsman said the 10 cases were far from isolated examples.
A total of 18% of the 9,000 complaints made to the ombudsman last year were about the care of older people.
Related Internet Links
The BBC is not responsible for the content of external sites.