Naseem Hamed fined for driving without retaking test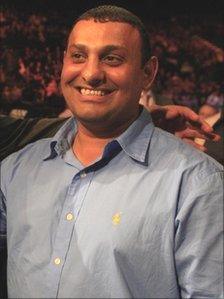 Former world boxing champion Naseem Hamed has been fined £1,000 for driving his car following a lengthy ban without retaking his test.
Hamed, 37, pleaded guilty to driving offences at Woking Magistrates' Court.
The court was told he drove his wife's car home to Virginia Water, Surrey, in August 2010 after receiving a call to say his youngest son was sick.
In 2006 he was jailed for 15 months and banned from driving for four years following a high-speed crash.
He was required to retake his test before he drove after his driving ban ended in March 2010.
Nick Freeman, defending, said the offence happened when a friend took Hamed for a drive to take his mind off the bout of asthma that had led his son to being treated in hospital.
Mr Freeman said the father-of-three took the wheel and headed back home to Virginia Water after he received a call for his wife saying their son was sick again.
He added: "[Hamed] threw caution to the wind, parental instincts kicked in. He was stopped two minutes from his home.
"He readily acknowledges he should have taken the test and shouldn't have driven."
Hamed pleaded guilty in his absence on Wednesday to driving a vehicle otherwise in accordance with a driving licence and driving with no insurance.
Anne Willmer, chair of the magistrates, fined him £1,000 for driving with no insurance and ordered six penalty points to be added to his licence.
Hamed was also fined £150 for driving without retaking his test.
In May 2005 he was behind the wheel of his McLaren-Mercedes sports car on the wrong side of a bend in Sheffield when he hit Anthony Burgin's car at 90mph (145km/h).
Mr Burgin spent weeks in hospital with fractures to every major bone in his body. Mr Burgin's wife Clare was also injured in the crash.
Hamed pleaded guilty to dangerous driving following the incident.
Related Internet Links
The BBC is not responsible for the content of external sites.