Surrey Hills in plea to public to catch illegal drivers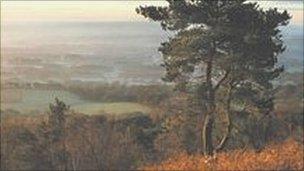 Members of the public have been urged to report anti-social off-road drivers in the Surrey Hills and try to get photographic evidence.
The Surrey Hills Board said powers were there to prosecute such drivers, but it needed the help of a vigilant public.
People who use cars and bikes illegally in the Area of Outstanding Natural Beauty (AONB) have been warned they risk losing their vehicles.
Two bikers are already at risk of having their motorcycles crushed.
David Wright, chairman of an off-road working group which was set up to tackle the problem, said: "Quick reporting of incidents backed up whenever possible with photographic evidence is vital for the police to prosecute these drivers.
"The powers are there. It just needs the help of a vigilant public to alert the police."
One motorcyclist seen riding in the Surrey Hills had no insurance, MOT, or registration documents and was not qualified to ride the bike.
He was ordered to provide documentation and pay recovery and storage costs in order to avoid having his bike crushed.
Another trail bike rider was caught revving his motorcycle to jump through puddles and potholes in Wolvens Lane. He received a warning and his vehicle can be seized and crushed if he rides anti-socially again.
The working group also said illegal driving by a rogue minority of 4x4 drivers had led to damage to a historic bridge and erosion of the countryside.
One was caught on camera stuck on a ridge after trying to enter Forestry Commission woods illegally.
The Surrey Hills area covers a quarter of the county and includes the chalk North Downs and wooded Greensand Hills.
It is home to rare wildlife, woodland and market towns and villages and is popular with walkers from across southern England. It was designated as an AONB in 1958.
Related Internet Links
The BBC is not responsible for the content of external sites.