Pregnant Surrey woman's 'epileptic alert' dog missing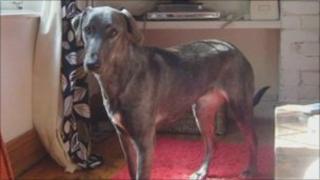 A pregnant Surrey woman is desperate to find her missing dog who is trained to alert her when she is about to suffer an epileptic seizure.
Andree Trotter's dog, Max, disappeared on the railway line in the Hurst Green/Oxted area.
She trained the family pet to recognise an oncoming seizure.
Miss Trotter, who is eight months pregnant, said: "I have had no warning of my attacks approaching and am both frightened and heartbroken."
Miss Trotter said that her and her fiance, Alan Whitlock, got Max from dog rescue centre, and he soon sensed when she was about to have a seizure.
"He wouldn't let anyone near me, and would just sit down next to me," Miss Trotter said.
When alerted of an seizure, Miss Trotter can take her medication and lie flat on the floor to reduce the risk of serious injuries.
"We trained him to bark, which only took a month or two," she said.
Three-year-old Max went missing three weeks ago and the couple have put up hundreds of posters around the railway line where they think he went missing.
They are offering a "substantial" reward, but have had no reported sightings of Max.
Miss Trotter said: "It is quite scary now, because I thought with him around he would be able to warn me and I could put the baby down and get to a safe space.
"Without him I fear anything could happen."