East Surrey Hospital 'distressed' by care of dying man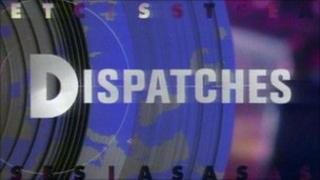 A Surrey hospital is to investigate the care a dying 80-year-old man received after his family secretly filmed his treatment for a TV documentary.
A nurse on Godstone ward at the East Surrey Hospital in Redhill was shown shouting at Khaleel 'Ken' Rasheed as he tried to get him to take tablets.
The footage formed part of the Channel 4 Dispatches programme, Secret NHS Diaries, shown on Monday evening.
Hospital chief executive Michael Wilson said it was "extremely regrettable".
"It is not the standard of care that any patient should expect," he added.
"I am deeply saddened and distressed by this and my thoughts are with Mr Rasheed's family," he said.
Mr Rasheed was admitted to the specialist stroke ward at the East Surrey in October last year after a seizure.
His condition initially improved but began to deteriorate when he was moved to Godstone general care ward.
Scenes filmed there showed him being shouted at and being refused a sick bowl until he had swallowed his pills.
He was also shown having a seizure while little is done other than nurses acknowledge it is happening. He died on 4 December.
Surrey and Sussex Healthcare NHS Trust said Mr Rasheed's family had not made a formal complaint.
But as soon as it was told of their concerns, it apologised in writing for any distress caused.
Mr Wilson said the family had acknowledged that Mr Rasheed received "excellent" care on the stroke ward but there were "real issues" about his care on Godstone ward.
"Last night was the first time that we saw the footage," he said.
"We will be talking to Channel 4, asking for them to release the full footage so we can clearly identify those members of staff and take action where it is appropriate."