Surrey surgeon warns of aneurysm 'screening delays'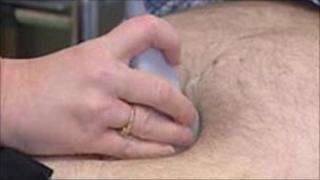 A surgeon at Frimley Park Hospital has criticised Surrey NHS chiefs for delays in introducing a screening process.
Patrick Chong said checks for abdominal aortic aneurysm (AAA) had begun in other parts of the UK but not Surrey.
He said AAA - the abnormal enlargement of a large blood vessel - was a major killer and delays may cost lives.
Mr Chong blamed "administrative bottlenecks" at NHS Surrey, but NHS Surrey said implementing the scheme was co-ordinated nationally.
Business case
Consultant vascular surgeon Mr Chong said: "This [screening] has already been launched in other parts of the UK but the programme launch has encountered delays in Surrey due to administrative bottlenecks at primary care trust and strategic health authority levels.
"Surrey patients and their relatives need to know that delays to the AAA screening programme launch may cost lives."
The condition, which affects the abdominal aorta blood vessel, is most common in men aged 65 and above.
A spokesman for NHS Surrey said the county was currently scheduled to introduce AAA screening in phase four of the national programme which was between October 2012 and April 2013.
He also said work was under way that could potentially bring the programme forward in Surrey.
This involved making a business case for earlier implementation and looking at when would be the right time to carry out the work, he added.
Talk to GP
And he said that depended on whether services and staff were in place for screening to begin.
Information from the NHS Abdominal Aortic Aneurysm Screening Programme said screening was being introduced gradually in phases to make sure it worked as effectively as possible.
It said screening was expected to be offered to all men aged 65 in England by March 2013.
In areas where screening is not available, people who are concerned they may have an aneurysm can talk to their GP and request a scan at a hospital.