Surrey 'holistic' centre for rape victims opened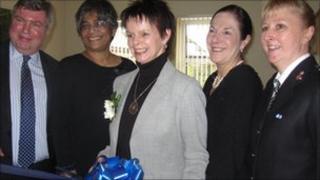 A one-stop centre for victims of rape, sexual abuse and serious sexual assault has opened in Surrey after a five-year campaign started by a paediatrician.
The Sexual Assault Referral Centre (SARC), at Cobham Community Hospital, will provide medical care, counselling and police investigation facilities.
Called the Solace Centre, it includes the Fernando Paediatric Suite in recognition of Sharmalene Fernando.
The paediatrician, now retired, led the campaign to open a SARC in Surrey.
The idea for SARC centres was sparked by a Her Majesty's Inspectorate of Constabulary report in 2002 which looked at the police response into the investigation of rape.
Equipment donated
NHS Surrey and Surrey Police gave £50,000 to adapt and refurbish the accommodation at Cobham hospital.
Medical equipment in the forensic examination rooms was donated by the hospital's league of friends.
The Solace Centre will also house the community paediatric service run by Surrey Community Health and is expected to care for 50 children as well as 200 adults each year.
"I am delighted that Surrey finally has a dedicated facility from which to deliver a holistic service to adult and child victimise of rape and sexual assault," said Dr Fernando.
"It is gratifying to see the vision come to fruition."