Tadworth's empty £1.75m respite unit to open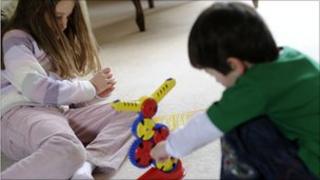 A £1.75m overnight respite care unit for disabled children in Surrey, which has been empty for nearly a year, is set to open after a review of services.
Applewood House at Tadworth, built to offer parents of disabled children an overnight break, was due to open last spring but was put on hold.
Surrey County Council (SCC) has been reviewing its children's services ahead of spending cuts.
Now SCC has said Applewood's six overnight beds will open this summer.
Parents hoping to benefit from the service said they were devastated when the opening was delayed.
Emma Packham, a full-time carer to her nine-year-old autistic son, hoped he would qualify for one night's stay a month.
"Every single night in this house is a broken night's sleep so we were really looking forward to it," said Ms Packham.
Councillor Mary Angell said that once it was fully open, the respite care unit would be able to help up to 40 families.
"It took so long partly because there were budget pressures," she said.
"It was very important that we undertook a review of our short break services for families because it was no good opening if we did not have sustainable funding for the future.
"Now I am really pleased to say we have secured sustainable funding and it is full steam ahead."
Applewood's day care services remained open during the review.