Surrey hospital trust in car park clamping U-turn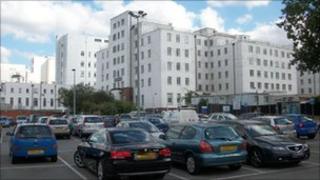 A Surrey hospital trust that was named in a survey as being the worst for clamping vehicles in its car parks has dropped the practice.
A survey by the consumer watchdog Which? revealed Epsom and St Helier University Hospitals NHS Trust clamped 1,671 cars and made nearly £2m profit.
The hospital said it had made changes after carrying out a review.
Chief Executive Matthew Hopkins said the trust had stopped clamping and frozen parking charges for two years.
'Listened to feedback'
In addition, there will be no parking charges on Bank Holidays or for the first 20 minutes of visitors' stays.
Visitors will be refunded for their parking if their appointment is delayed by more than an hour, he added.
More than 1,100 people responded to the trust's consultation.
Mr Hopkins said: "Unfortunately, we couldn't scrap charges altogether and we are unable to increase the number of car parking spaces at our hospitals.
"However, I hope our patients, visitors and staff will agree that the changes we're making are substantial and prove that we've listened to their feedback."
Which? published a survey last June using data from 126 Freedom of Information requests.