Surrey fire service plans 'unacceptable'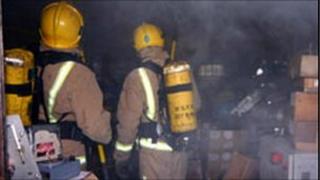 Firefighters have said proposed changes to the fire service in Surrey, which they claim will extend response times, are "totally unacceptable".
The Fire Brigades Union (FBU) said slower response times would threaten life and increase the risk to businesses, property and fire crews.
Surrey Fire and Rescue Authority's draft plan reduces night cover but provides more engines during the day.
A spokesman said it proposes "appropriate" cover over 24 hours.
A public consultation on the plan, designed to save £2.7m over the next four years, ended this month.
As part of its response, the FBU conducted a survey of its members in Surrey.
The proposal to extend attendance times and cut the number of crews available to respond to night-time emergencies received the highest number of negative responses, a spokesman said.
'Community needs'
"The results of the survey clearly indicate that the council leaders and service managers have got it wrong," said Surrey FBU secretary Richard Jones.
"The proposals are totally unacceptable and the most appropriate way forward would be to start the process without the financial impositions and focus on community needs."
Surrey Fire and Rescue Service, (SF&RS) which has said most emergency calls are received during the day, is proposing to rota 8,000 more day shifts a year for firefighters.
It has said some of its 24 fire stations are not in the best locations to provide emergency cover and it wants to move some of its 35 fire engines.
Under the plans it aims to have one engine at critical incidents within 10 minutes and a second within 15 minutes.
But the FBU claims real time responses times could be as much as 16 minutes and 25 seconds from a call being received.
An SF&RS spokesman said: "The average response time for the first fire engine is predicted to increase by four seconds overall.
"It is predicted that average response times during the day would reduce by six seconds, while at night there would be an increase of 20 seconds."
He said the service was aware of the FBU survey and would take all responses to the consultation into account.