Surrey County Council replaces 15,000 street lights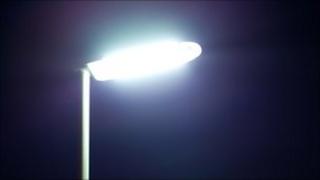 Old orange street lamps have been replaced with white "smart lamps" in four areas of Surrey, as the county council replaces 88,000 lights.
Fifteen thousand have been installed in Reigate, Banstead, Guildford and Spelthorne so far.
Over five years, 70,000 lights are being replaced and 18,000 repaired.
Work on the scheme started last year and the new lights are set to save £12m and cut carbon emissions by 60,000 tonnes over 25 years.
'Safety increased'
Councillor Ian Lake said half of all Surrey's existing street lights were 40 years old or more and many only worked to about 50% or 60% of their potential.
He said the new lights increased visibility and safety for motorists, cyclists and pedestrians.
The computer-operated system also allowed street lighting to be increased when needed and reduced when not, and the lights directed their beam downwards cutting light pollution, he added.
The project is being funded by a private finance initiative grant worth £73.9m from central government with additional funds from the Conservative-run council's existing street lighting budget.
Residents are currently being asked for their views on the new street lights and consultation runs until 31 March.