Curators hope for crowds during Surrey Museums Month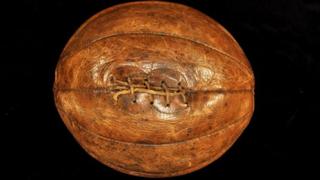 What does a Roman priestly head-dress have in common with a football kicked across no man's land?
Both are items on display in Surrey's museums as part of a BBC-inspired project, A History of Surrey in 50 Objects.
The event will run throughout April as part of Surrey Museums Month 2011.
Organisers hope it will draw more visitors to the county's 42 museums, galleries and heritage organisations.
'Surprises'
Haidee Thomas, Surrey Museums Month co-ordinator, said: "A History of Surrey in 50 Objects is a fairly light-hearted, enjoyable way for our museums to share some of the county's important past.
"Surrey is full of surprises and has a lot to be proud of in terms of its heritage."
The project was inspired by A History of the World in 100 Objects, which was a collaboration between the BBC and the British Museum.
Curators were asked to come up with suggestions for objects which provided intriguing stories of Surrey's past and were on display in the county.
These included a football at the Queen's Royal Surrey Regiment Museum, near Guildford. It was kicked across no man's land during the Battle of the Somme in 1916 by soldiers from the East Surrey Regiment.
Temple
A Roman head-dress worn by a priest at Wanborough temple and considered one of the most important Roman objects in Britain is also on display at Guildford Museum.
Ms Thomas added: "We are not trying to tell the definitive history of Surrey but more a collection of short stories reflecting significant moments, people, industry and discoveries whose impact not only shaped Surrey's history but often spread far beyond.
"This Surrey Museums Month, we really hope people will discover something new through the objects, and will be inspired to visit the museums as there is so much happening."
For more information on the 50 objects and where to find them visit the Exploring Surrey's Past website.