BBC Introducing gives upload advice to Surrey bands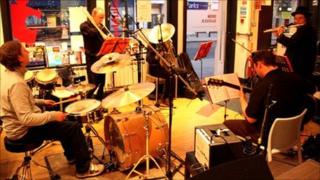 In a band? Want to get your music to a wider audience? Then you have come to the right place.
BBC Introducing: The South is the platform for your music to be heard by BBC radio producers across the country, and your chance to have your tunes played to listeners across Surrey, Sussex, Hampshire and Dorset.
But before you rush to send the twenty demo CDs you made in your bedroom into the post, read on. Here are a few tips to up your chances of airplay.
One
Save your money and don't send CDs. You can upload your tracks for free to www.bbc.co.uk/music/introducing where you will find full instructions to do it. Save on postage and save the environment.
Two
But whoah! Hold back a moment. Is your music ready for a public hearing? You mum and your best mates have told you it is great, but have you played it to a wider circle of acquaintances?
Don't listen to what comes out of their mouths as they are probably very polite and will tell you, "it's great". Watch their reactions for signs of glazing over, staring at a fascinating bush out the window, stifling a snigger or idly picking the wallpaper.
If they lose interest it is fair to assume that a producer who will be hearing dozens - if not hundreds - of new tunes a week, will lose interest too.
Three
So your music has passed the glazing over test. Now to upload your first demo album? Don't be tempted!
If the first track a producer hears does not grab them, they are not going to listen to the rest in the hope that one will. Better to upload one or two to test the water.
If a producer wants to hear more, they will contact you to ask. And if you don't get a reaction for a while, review the track - is it well recorded? Is it a strong song?
Don't rush to add another track though. Wait a couple of months before uploading a couple more, when there is a good chance that your first unsuccessful punt will be forgotten about and you can try again with a fresh track.
Four
Your biog can make or break your track. Keep it informative, well-written - get someone who can spell to check it if that is not your strong point - and make sure the links to your sites are up to date.
Also, your MySpace/Facebook/blog etc must be up to date with your current gigs, release plans, and other snippets of info which give a presenter something interesting to talk about.
A producer who hears a great track is less likely to put it to air if there is no up to date info available about the band to tell listeners.
Five
And once you have done all this, don't forget that music is just a matter of personal taste. Which is lucky, as otherwise we would all like the same six bands and then what would we argue about in the pub?
So if one producer passes over your track, it may be that it hits the spot with another programme. Sending in endless emails to urge a producer to listen to your music will not encourage them to like it if they didn't in the first place.
So - happy uploading, and we look forward to hearing your tracks soon.