Surrey man raises hospice money in marathon challenge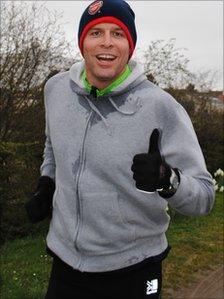 A man from Farnham has run seven marathons in seven days in seven different countries to raise money for a hospice.
Paul Blizzard, 34, raised £10,000 for the Phyllis Tuckwell Hospice.
He ran in Italy, Switzerland, Germany, Luxembourg, Belgium and France, before finishing in Farnham at the hospice.
His inspiration for the challenge was the treatment his mother-in-law Pat received before she died of stomach cancer.
Mr Blizzard, who had never run a marathon before, praised the staff for battling through heavy snows in January 2010 when Pat was allowed home for a few days.
He said: "She was only given enough morphine for a day and a half, but because of the snow the ambulance couldn't come and pick her up.
"She was becoming quite hysterical with the pain, but then there was a knock on the door and one of the nurses had walked two-and-a half miles in 18 inches of snow to bring her more morphine."
Mr Blizzard said he felt "absolutely elated" when he crossed the finishing line at the hospice, despite tearing a ligament and tendon in his right leg.
"I picked up an injury on mile 13 of the final marathon and I was in a lot of pain," he said.
"But I didn't feel tired at all. I had passed that stage in the first marathon."
Related Internet Links
The BBC is not responsible for the content of external sites.