Concern over rising pupil numbers across Surrey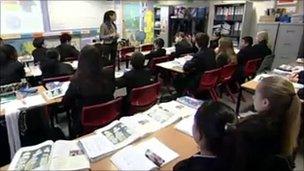 Concerns have been raised about rising school pupil numbers in Surrey after a village school was told to make space for another classroom.
Surrey County Council (SCC) wants to place about 23 extra pupils in a temporary classroom at Byfleet Primary School from September.
The local authority has admitted it failed to accurately predict the number of children starting primary school.
Parents of children at the school have reacted angrily.
Clare Tyndall said: "It's a very small school so there's going to be real pressure on numbers and space.
"This seems to be a problem that is getting worse across Surrey as more children move into the area and Surrey County Council [is] not really planning for places."
Parents argue the council should have kept open Manor School in the village, which was closed five years ago due to lack of demand.
Last December, Councillor Peter Martin, SCC's cabinet member for children and learning, said rising pupil numbers had become a "critical issue".
A spokesman for SCC said it had closed Manor School because it had "a very small roll" and could not have continued "without considerable financial support."
He added: "We are now in the position that the number of applications is far higher than projected, not just in Byfleet, but Woking generally.
"Our projections are based on the birth rate and housing, so the factors at play may be out of the scope of our predictions."
Jonathan Lord, the Conservative MP for Woking, said: "This decision is rather peremptory and very regrettable.
"To have a school just suddenly told they need a new classroom is not really on."
Related Internet Links
The BBC is not responsible for the content of external sites.