Frensham dairy installs robotic milkers for its cattle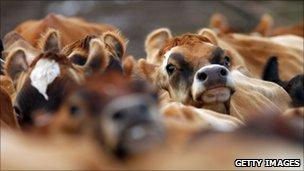 A countryside charity has installed robotic milkers in a dairy in Frensham, Surrey.
The Countryside Restoration Trust (CRT) has spent £900,000 refitting the dairy at Pierrepont Farm with the automatic milkers.
The charity, which was gifted the dairy in 2005, campaigns against the closure of small cattle farms.
Conservative MP Zac Goldsmith officially opened the new milking parlour earlier.
According to the CRT the number of dairy farms has declined sharply in England and Wales, with 449 farms closing in the past 12 months.
Robin Page, chairman of the CRT, said: "It's a farming disaster, a social disaster and an environmental disaster.
"With the significant investment the CRT is committing itself wholeheartedly to British cow-friendly milk, British wildlife-friendly farming and to the British countryside."
Laure Tordjmann, from the CRT, said the dairy was home to 120 pedigree Jersey cows.
"It used to be an old-fashioned parlour where pumps were connected by hand," she said.
"Now there are two robotic milkers and the cows can wander in and be automatically milked whenever they get too big or uncomfortable.
"In terms of animal welfare, it's the best we can offer them. It also makes the dairy much more economically competitive."
Related Internet Links
The BBC is not responsible for the content of external sites.