Electric car plan for Guildford and Woking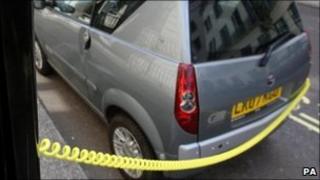 Charging points for electric cars could be installed in two Surrey towns if a bid for government cash is successful.
Surrey County Council (SCC) has applied to the Department for Transport for £5m to spend on sustainable transport for Guildford and Woking.
It wants to install a network of public charging points, then try to work with local businesses to set up an electric car loan scheme.
The council also wants to create more cycle routes and improve bus routes.
The bid, called Travel Smart, includes measures to provide more information at bus stops and give priority to buses at road junctions.
Walking would be encouraged by increasing safety measures at crossings and improving signage to help people link walking and cycling with bus and rail travel.
"We want to make it easier and more convenient for people to use public transport, cycle or walk," said SCC cabinet member Ian Lake.
"If someone goes to the shops by bicycle for example, we want them to be able use safe cycle paths but they must also have somewhere secure to leave their bike.
"Similarly, if someone visits a Surrey town by train, we must ensure there are convenient public transport links from the station. "