Surrey hospitals split in foundation bid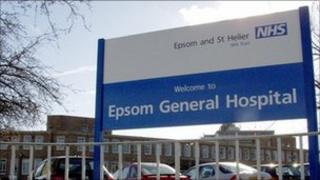 A Surrey hospitals trust could be split and remerged with other hospitals in a bid to achieve foundation trust status.
Epsom and St Helier University Hospitals NHS Trust, which also includes Sutton Hospital, is inviting other facilities to consider a merger.
The trust's board decided in December that it was not financially feasible for it to become a foundation trust in its present form.
The government requires all hospitals to achieve foundation status by 2014.
Foundation hospitals have greater financial freedom over their budgets but must prove they can meet NHS performance standards and are financially sustainable.
Last year the trust said it had balanced its books for the past three years but was not financially viable following forecasts of income from primary care trusts.
The trust's transaction board chairman, Jan Sawkins, said: "The government's deadline for all hospitals to become foundation trusts is March 2014.
"Whilst that's still three years away, there's a lot of work that needs to be done to make it happen.
"The next step is to find out which organisations might be interested in partnering with the trust's hospitals."
The trust said it would not be accepting expressions of interest from non-NHS organisations.