Brighton Climate Action protesters occupy former school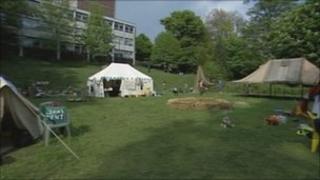 The grounds of a disused school in East Sussex have been occupied by a group of climate activists.
About 40 protesters from Brighton Climate Action entered the grounds of the former St Anne's school in Lewes on Friday, declaring squatters' rights.
They have pledged to undertake a week of training and "direct action" against companies accused of environmental damage.
Sussex Police said the camp was peaceful and no arrests had been made.
'Legal action'
A police spokesman said officers visited the site in Rotten Row at the request of East Sussex County Council on Friday night.
A spokesman for East Sussex County Council said it understood the protesters were occupying the land.
"Our property and legal staff are monitoring the situation and we are working closely with Sussex Police.
"We hope that this situation can be resolved without having to take legal action through the courts."
A list of potential targets released by the protesters includes Gatwick Airport, Hastings bypass and the Newhaven incinerator. High street shops accused of tax avoidance have also been named.
The group also said an exploratory oil drilling site in an area of ancient woodland on the South Downs would be targeted for sabotage.
'Permanent occupation'
After the camp, activists plan to occupy the building of the former special needs school permanently and establish allotments in the grounds.
Ian Ratcliffe, 24, a landscape gardener from Brighton, said the group had declared squatters' rights over the site.
"The timing is perfect. Evicting us legally is going to be quite difficult as between the two bank holidays they only have three days next week to do the bureaucracy."
Norman Baker, the Liberal Democrat MP for Lewes, said he was "sympathetic" to the protesters' action as "climate change is one of the most serious issues we face".
He said they were right to draw attention to it, but he was doubtful about the method chosen, saying that any protest must be "peaceful and within the law".
Mr Baker added that he did not condemn their use of the school building and grounds as it had been "empty for years".