New gym opens at refurbished Donyngs leisure centre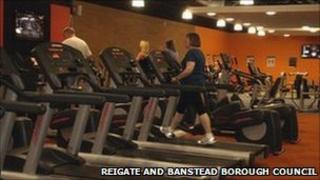 A new, state-of-the-art gym has opened at a leisure centre in Surrey as part of its £3.4m refurbishment.
The fully air-conditioned gym at the Donyngs Recreation Centre in Redhill is almost a third larger than the old one.
It has 100 pieces of new equipment and a new audio-visual system. A youth gym is also nearing completion.
Some of the equipment has removable seating to accommodate wheelchairs and other modifications that make them suitable for people with disabilities.
The refurbishment of the leisure centre is continuing, with the next phases set to include a new soft play area and improvements to the entrance, reception, cafeteria and pool area.