Red squirrels bred in Surrey at British Wildlife Centre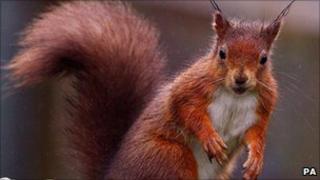 A wildlife centre in Surrey has been breeding red squirrels as part of a scheme to increase their numbers.
The British Wildlife Centre, in Lingfield, has been trying to arrest the decline of Britain's native squirrel.
The North American grey squirrel has taken over most of the country since its `introduction in the 19th Century.
The centre has been supplying red squirrels to estates across the UK to stop the species vanishing completely.
Its founder, David Mills, said the grey has thrived because it is "bigger and stronger" and can carry a lethal virus, which can kill the red.
"Greys have adapted so well to our climate and the environment that it's ousted the red squirrel," he said.
"They're encroaching and unless there's a huge cull and an effort to stop the greys encroaching, I'm afraid the reds will disappear."
Mr Mills said the centre, which was founded in 1997 and is open to visitors at weekends and on bank holidays, has bred the reds to stop disease wiping them out entirely.
"The object is to have satellite groups of squirrels that we manage," he said.
"So the idea is that we've populations away from here in case we have a population crash.
"We thought it would be nice to have a place where you can walk through and have red squirrels around you like it used to be 70 to 80 years ago."