Woking Palace's traditional turf-covered charcoal burn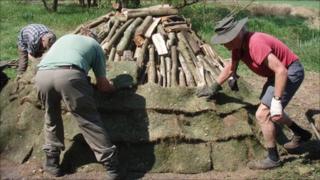 Charcoal has been made at Woking Palace using the traditional method of burning a turf-covered wood pile.
It is believed to be the first known burning of its kind in Surrey in nearly 50 years.
The event was organised by the Friends of Woking Palace, and used wood reclaimed from the moat surrounding the property.
It took three days and two nights to complete the burn, with the pile being manned throughout the Easter weekend.
Some of the 240kg of charcoal produced at the burn will be sold at palace open days and organisers hope to host a similar event next year.
'Health risk'
The charcoal-making industry has largely died out in the UK, with production moving to the forests of South America and Africa.
Charcoal burns at much higher temperatures than wood and was crucial in the production of iron before coal was mined extensively.
Norman Johns, 71, who is the lead volunteer, said modern methods included placing a sealed metal container over the pile.
"What a health risk it must have been for charcoal makers breathing in that smoke every day," he said.
"These old industries were so dangerous.
"They were basically excluded from pubs and had their own room because of the smell."
To start the burn the volunteers built a chimney from wood and then piled the timber around it.
This mound was completely covered with turf apart from a hole at the top where burning embers and kindling wood were dropped into the chimney.
Mr Johns said the last known time a turf-covered charcoal burn took place in Surrey was in 1964.
"This is an ancient method and would have been used in Surrey for generations," he said.
"It's very labour intensive and today metal is used as a covering."