Guildford Cathedral marks 50th anniversary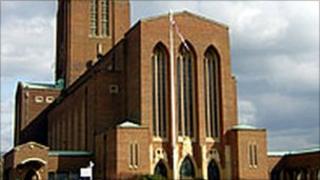 Sculptures and paintings are to go on show at Guildford Cathedral in Surrey to mark its 50th anniversary.
The cathedral, which sits at the top of Stag Hill, has begun a year of celebrations to mark its milestone.
The art exhibition includes work by Elisabeth Frink, an English sculptor who studied at Guildford School of Art.
Other events lined up to mark the anniversary include a series of concerts, the Golden Jubilee summer fair and lectures.