Hindhead tunnel walk money for community groups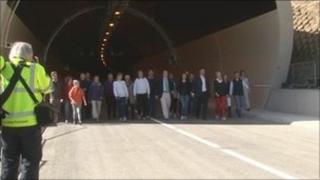 Money raised by the Hindhead tunnel walk is being made available to local community groups.
Each group can apply for a grant of up to £1,000 from the £12,000 fund before the closing date of 10 June.
Wendy Varcoe, from the Community Foundation for Surrey, said youth groups and groups which reduce isolation for older people could apply.
"It could also be a group supporting people with disabilities or supporting community facilities," she said.
Nearly 7,000 residents got tickets to walk through the new Hindhead tunnel on 14 May, which will take the A3 London to Portsmouth road under the Devil's Punch Bowl.
Each walker paid £10 to walk through the tunnel, and the profits left over from organising the event will fund the community projects.
The recipients of the grants will be announced in early July.