Al Fayed criticises Surrey green belt quarry plan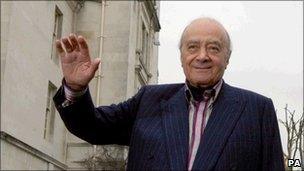 Former Harrods owner Mohamed Al Fayed has criticised a move by Surrey County Council to keep three potential green belt quarry sites in its minerals plan.
An inspector has thrown out a plan to reopen a quarry near Mr Al Fayed's Oxted estate but other quarries remain possible in Nutfield and Bletchingley.
The chairman of Fulham Football Club said quarrying the green belt could cause "widespread damage".
The county council said it would prefer that no sites in Surrey were quarried.
Mr Al Fayed, who had threatened to take Surrey County Council to court over the Oxted plans, said the inspector's decision over the Oxted site was excellent news.
But he added: "I do feel deep sympathy for other areas such as nearby Nutfield and Bletchingley where three quarries are proposed in the green belt, threatening widespread damage to the environment."
He had backed a campaign by Oxted and Limpsfield Residents Group against proposals to extract sand from land in Oxted.
A statement from the residents' group said: "Although Oxted has won out, our celebrations are muted by what's happened elsewhere."
The statement added: "We're hugely disappointed that the green light has been given to massive development in Nutfield and Bletchingley.
"Three new quarries are proposed in the green belt in these villages which will ravage the whole area."
Dr Lynne Hack, cabinet environment spokesman for Surrey County Council said: "I would prefer that no areas of Surrey were quarried but our county needs to play its part in providing raw materials to build and maintain roads and houses."
She said if Surrey did not have an up-to-date minerals plan, developers would be able to apply to quarry other sites across the county.
The local authority had also fought and won to halve the amount of sand and gravel the county was required to provide, she added.
The minerals plan still has to be considered by the cabinet on 21 June and the full council on 19 July.
Related Internet Links
The BBC is not responsible for the content of external sites.