Milly Dowler trial: Levi Bellfield's partner 'besotted'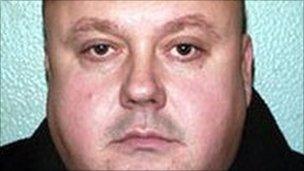 The girlfriend of the man accused of murdering Milly Dowler was "besotted" and changed in personality after she met him, the Old Bailey has heard.
Gillian Mills said her daughter Emma was "well-behaved" before she met Levi Bellfield at a nightclub in Surrey.
Emma Mills, who was 17 when she met Bellfield, lived with him for nine years and they had three children.
Bellfield, 42, denies abducting and murdering Milly and attempting to kidnap another girl in March 2002.
Mrs Mills also told officers he reminded her of a TV soap character.
Jurors heard Mrs Mills told police: "I didn't like the look of him.
"I would describe Levi as a big, fat lump with a high voice. He has no neck.
"He reminded me of Butch Dingle of Emmerdale."
Mrs Mills told officers her daughter changed in character after she met Bellfield.
The court heard Bellfield would drive Miss Mills home in the early hours, and soon she left home to live with him.
The mother's statement continued: "Before Emma met Levi she was well-behaved. Her personality changed. She was besotted with Levi."
Jurors were told the couple separated for a while and Miss Mills went to a women's refuge with their two children, before her mother arranged for her to live in a flat in Walton-on-Thames.
Mrs Mills told police she was disappointed to find the couple later got back together and had a third child.
Her statement said: "I think she let him back into her life because she was lonely."
Earlier, the court heard from Miss Mills who said Bellfield had been unfaithful to her while she was in the refuge.
It was only when he was arrested in November 2004 that she felt "free and able" to talk to the police about him, Miss Mills said.
The prosecution claims Bellfield tried to abduct Rachel Cowles, who was 11 years old, on 20 March 2002.
It is alleged he drove off after trying to abduct the girl when he saw a police car and that he went on to murder Milly the next day.
Milly disappeared on 21 March 2002 in Station Avenue, Walton-on-Thames, near Bellfield's home in Collingwood Place.
The jury has been told she had just called her father to say she was on her way home.
Her remains were found six months later.
Bellfield, a former wheelclamper and club bouncer, was convicted at the Old Bailey in 2008 of attacks on women in west London over a period of about two years.
He was convicted of killing Marsha McDonnell, 19, in February 2003 and Amelie Delagrange, 22, in August 2004, by striking them on their heads with a blunt instrument.
In May 2004, he attempted to murder Kate Sheedy, 18, by deliberately running her over in a car.
The case was adjourned for a week.
Related Internet Links
The BBC is not responsible for the content of external sites.