Rhinoceros head stolen from Haslemere museum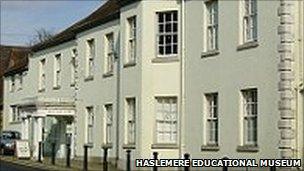 A rhinoceros head has been stolen by burglars from a museum in Surrey.
The valuable item was stolen from the Haslemere Educational Museum shortly before 0200 BST on Friday.
Julia Tanner, the museum's curator, said the burglars had forced an entry, setting the alarms off. The rhinoceros head was the only item stolen.
Det Con Dave Pellatt, of Surrey Police, said there had been similar thefts elsewhere in Europe where the animal heads had been found minus the horns.
He suggested they had been sold on to be used in alternative medicines.
Haslemere Educational Museum is one of the largest Natural History museums in central southern England with more than 240,000 specimens, along with more than 140,000 human history artefacts from around the world.
Related Internet Links
The BBC is not responsible for the content of external sites.